You are here
Newsletter
A few not-to-be-missed events before we start hollowtining
Wednesday, September 14, 2022 - 10:14




Wednesday, September 14, 2022
Greetings greetings greetings,

In 102 days we will be celebrating Christmas 2022... Scary on the one side and amazing on the other that we all celebrated another year. Happy birthday to everyone who's had one and to everyone whose birthday is still coming before yearend!

Take your time and make a memory…..Time waits for no-one, with memories being forever!

Spring treatment

We are ready for spring treatment – why? Because the course is looking at its best and the greens are running like a PGA tournament course. Ironic we always do it when it looks sooooooo good out there! You still have a week or so to come and enjoy a round before we start hollowtining from 26 to 30 September. The course will be closed during this period and reciprocity has been arranged at the following courses:

Strand GC – R250
Somerset West CC – R280
Erinvale Golf Estate – R380
De Zalze Golf Estate – R310
Devonvale GC – R300
Paarl GC – R280
Pearl Valley Golf Estate – R695 including a golf cart

A special September

September is my favourite month, maybe for different reasons than most others, as I celebrate my birthday on the first day of spring and for the rest, because they enjoy the Three Clubs and a Putter Competition proudly presented by Cluver & Markotter once again.

Congratulations to our champions – Pietie Carinus and John Hitchcock, whom have both sold the rest of their sets as they don't need it no more...If you missed out – there will be a second chance in the October Mix Competition when Cluver & Markotter will be sponsoring this very, very popular event. I'm not missing it (Charlene, I hope you are reading this).

Ladies and Gentlemen, please put your hands together for a wonderful sponsor in Cluver & Markotter.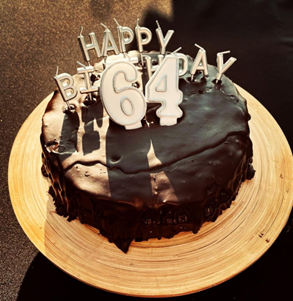 Save the dates!

• Stellenbosch Ladies Open Day – 22 September
• Meraki Mix Competition – 25 September
• Spring treatment - 26 – 30 September (Course closed)
• Stellenbosch Golf Club AGM – 19 October
• King of the Skirts – 26 October
• Cluver & Markotter Mix Competition – 30 October
• ABACUS Eikestad Classic – 1 to 5 November
• Paradyskloof & Welgevonden Spar Mix Competition – 27 November
• Parent & Child Day – 3 December
• Ladies Xmas Day – 6 December
• Captains Day – 7 December

To name but a few…. What better place to make your next special memory, than right here with us!

Get in on the action

A great mix!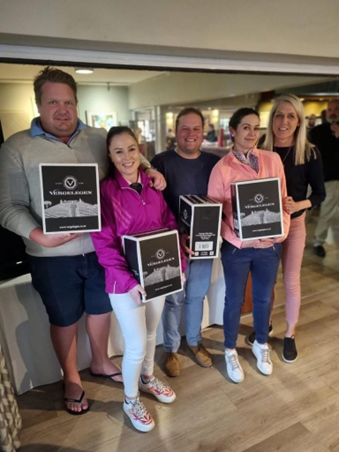 Our August Mix Champions!

Don't miss the next one!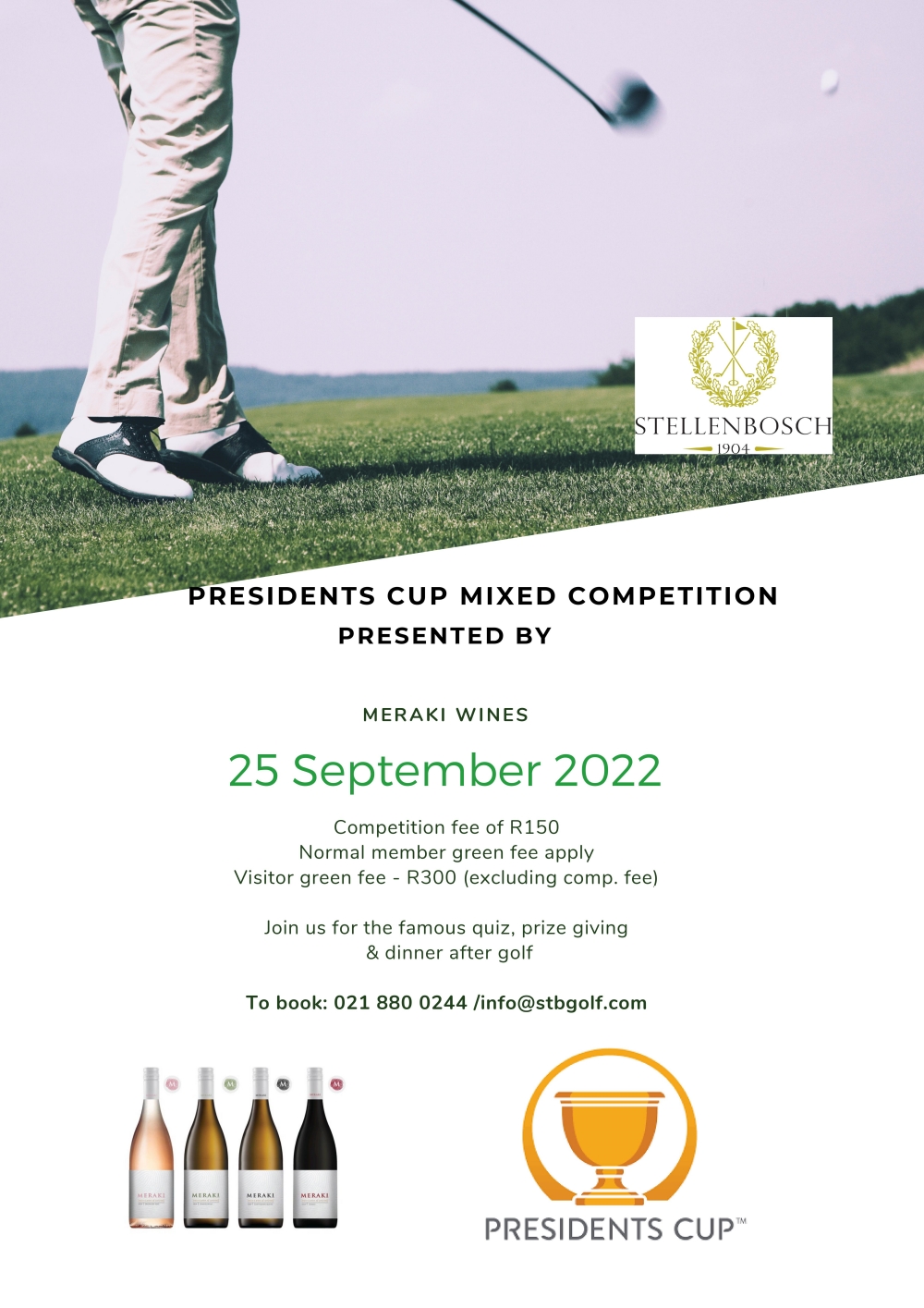 Let's mix it up

Book now

Some local rules for now...

For those not visiting the shop I have added some of the local rules into the newsletter. There is NO drop from the concrete foundation as per the definition below.

By now I'm sure you are all aware of the relief that may be taken on the 12th, 13th and 14th holes due to the installation of the new irrigation.

Lastly placing – enjoy it for the last couple of weeks as the day of no placing is getting closer at a rapid pace. This course is just too good and we need to play the game like it was intended to be played!

Out of Bounds and Course Boundaries

• Out of bounds is defined by white stakes and the boundary fence of the golf course.
• Although the boundary fence defines the out of bounds, the concrete foundation, and any other support structure of the fence forms part of this structure and no free relief is allowed for interference from this structure if the ball is still in bounds.
• The driving range and chipping green areas.

Abnormal Course Conditions

Ground Under Repair (GUR): All damaged areas caused due to construction work (re-sodding/worked areas) on the 12th, 13th and 14th hole.

PREFERRED LIES

When a player's ball lies in a part of the general area cut to fairway height or less, the player may take free relief once by placing the original ball or another ball in and playing it from this relief area:

Reference Point: Spot of the original ball
Size of Relief Area Measured from Reference Point: One club-length, but with these limits:

Limits of Location of Relief Area:
1. Must not be nearer the hole than the reference point, and
2. Must be in the general area.

Four nations, one great game

Just had to share this video with you all, being such a proud moment as I walked the South African Team out in the inaugural Four Nations Cup two weeks ago #gobokke! Team SA played very well leading 'til the final day, but sadly they could not pull of the win.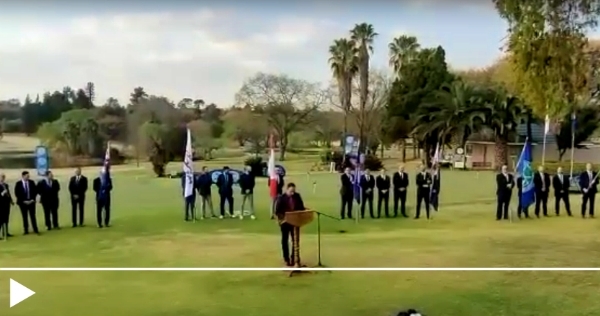 All the best,
Louis







Pages