You are here
Newsletter
Greetings
Wednesday, August 21, 2019 - 13:46





Greetings my fellow golfers,

How about a little teaser on the new world handicap system that will partly be implemented on 1 October 2019 with total implementations the 1 January 2020?

I had the pleasure this morning to attend a meeting where Golf RSA explained the new handicapping system. Ironically one of the biggest changes for me is not in the new system but rather that clubs may not have permanent placing anymore. No more placing! Yip play the ball as it lies….. What do you think?

Maximum handicap index goes up from 36 to 54, now this could become a loooooong round of golf. Players can make a nett double bogey on a hole. A player will have 24 hours to enter a score from the current 72 hours. These are but a few of the changes that are coming as the world unites with one system.

Even better was starting the week of at Strand CG on Monday playing in the annual Western Province PGA Interclub. I had the pleasure of spending the day with Leonie Malherbe, Charlene Theunissen and Chris van der Merwe.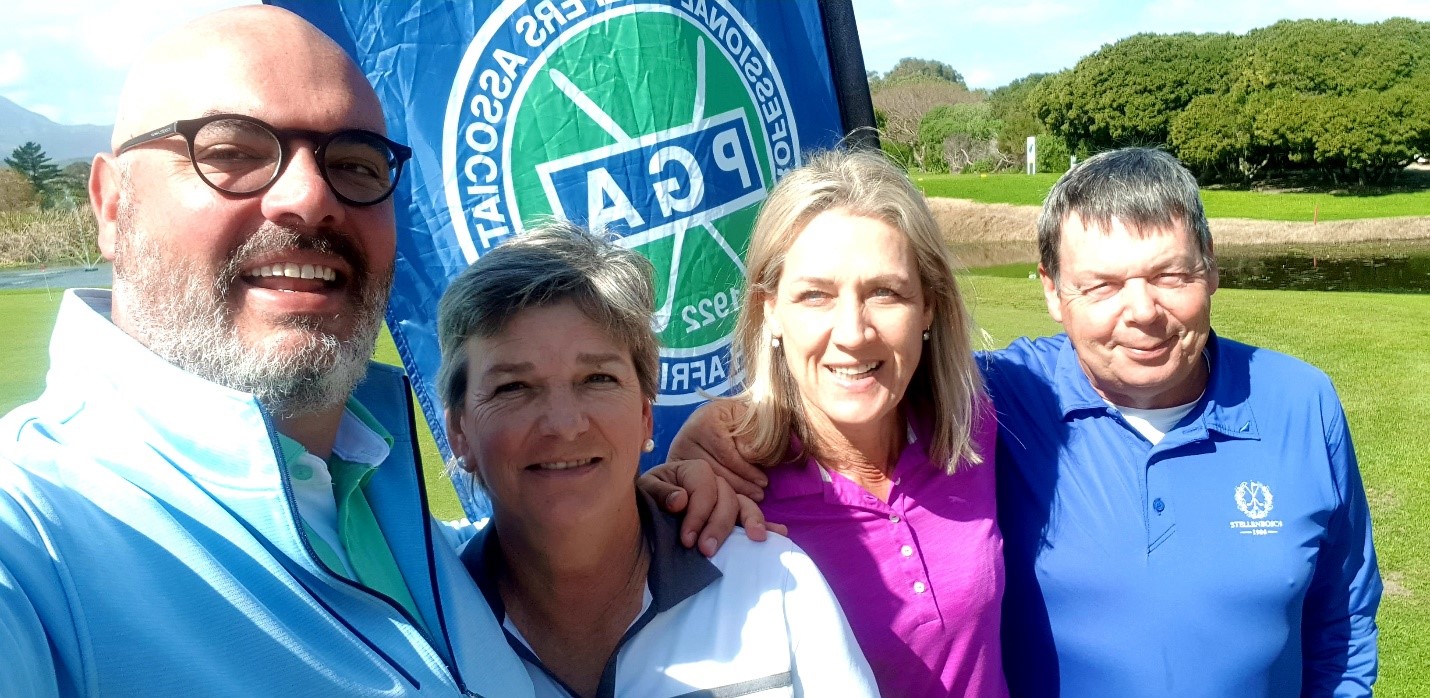 Monday golfing means all week golfing!

Welcome back to all the members who have been away on their annual golf tours. This time of year is a very popular time to head off to different destinations and live the dream for a couple of days. Remember that I will gladly assist with your next golfing trip – we'll make sure it's extra special!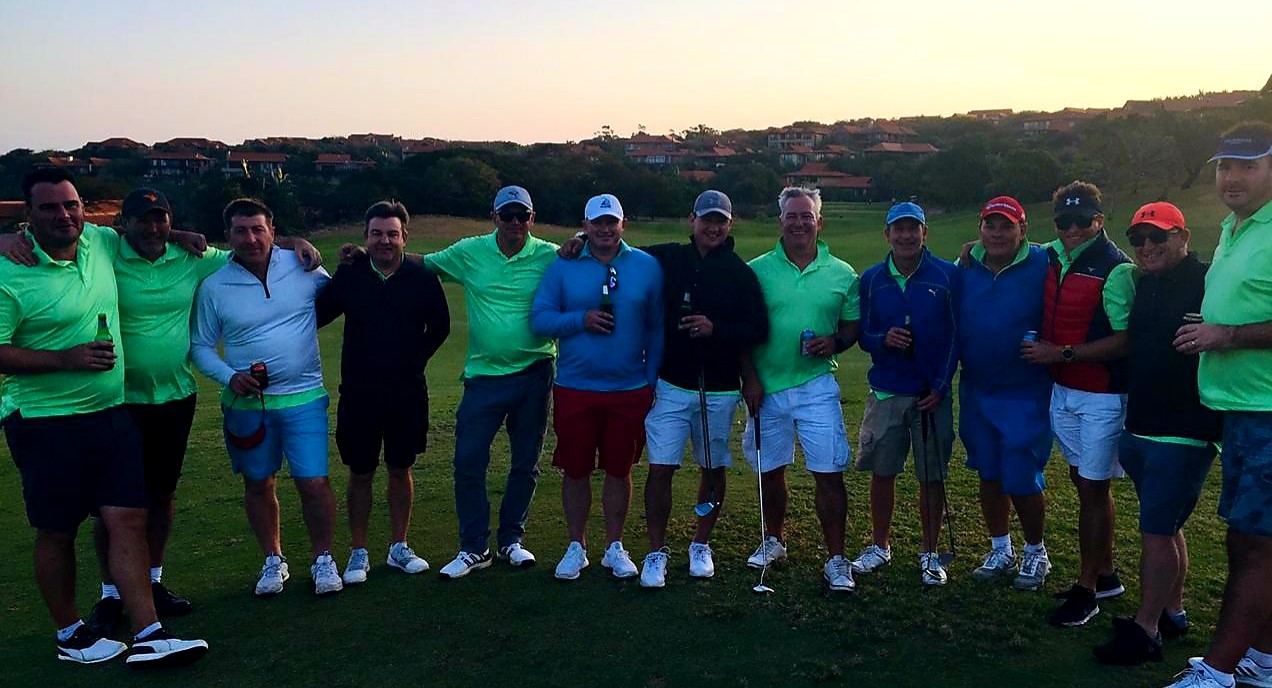 Stellenbosch boys enjoying their Durban tour 2019…


NASHUA Winelands Series – ROUND 5

We had another great day on Wednesday as the 5th round of the Nashua Winelands Series was played. The day with a great format, prizes and people. The brothers Oosthuizen did it again, scoring 92 Stableford points, moving them into the 8th overall position. Still leading after the 5th round is Carel Nel and Fred Kieks on 360 Stableford points.

1. Carel Nel & Fred Kieks 360
2. Nieuwoudt Heerschap & Dries Horn 349
3. Johan Hugo & Karl De Bruyn 329
4. Johan Mouton & Frikkie van Wyk 316
5. Flip Liebenberg & Marnus Raath 307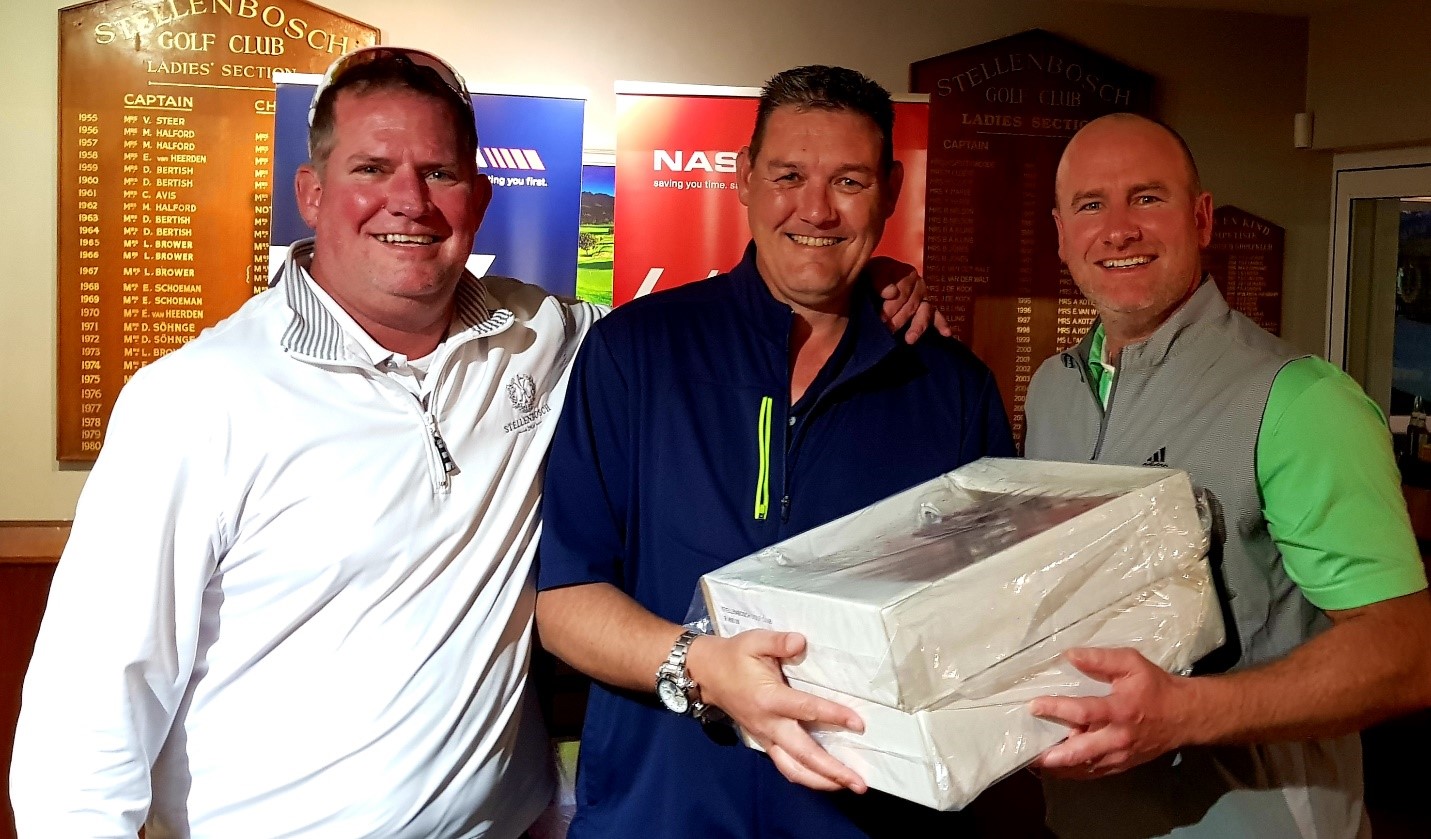 The winning team combination smiling as they receive their meat prizes


Congratulations

The Boland Golf Union is proud to announce that the following players, in no particular order, have been selected for the 2019 BOLAND NOMADS SA U13 TEAM to participate in the Nomads SA U13 Championship from 25th – 27th September 2019 at Devonvale Golf and Wine Estate.

Ghery Rabie - Robertson 2700320162
Gerard Hartman - Stellenbosch 2700360496
Sergio Japhets - Riverside 2700360619
Rynhardt van Zyl - Stellenbosch 2700355847
Rico Wolmarans - Stellenbosch 2700362667
Tynan Vermeulen - Stellenbosch 2700354802

Stellenbosch GC is very proud of Gerhard, Rynhardt, Rico and Tynan for their inclusion into the team – well done young men – now go make us proud!

Winter Knock-out

The draw is done, and the timeline has been set for the 2019 Single & Better Ball Knock-out. Best of luck to the 16 players participating, it's always a great event to be part of.

Even the professionals have a bad day on the course…

Playing a wrong ball was just a part of what David Duval called an "god-awful nightmare" at hole 7 during the first round of the recent The Open Championship… where he made a 14!

Facts

This is how you get a "14" on your scorecard:

1. Duval played from the teeing area into the rough. He did not find the ball.
2. He played again (third stroke) from the teeing area. Again into the rough and again he did not find it.
3. Fifth stroke from the teeing area: Again towards the rough.
4. He found a ball and played it. Unfortunately it turned out to be a wrong ball, and thus he incurred a two-stroke penalty (Rule 6.3c).
5. He searched for the (right) ball in the rough but in vain (ball lost = a one stroke penalty).
6. Back to the teeing area playing his eight (!) stroke.
7. From there on he used six strokes.
8. Hence, a 14!

About Duval.

Duval is a former champion of The Open (2001) but obviously is not playing that well anymore. Despite birdies on the first two holes Thursday, he scored 91. And after 78 Friday he of course missed the cut.

So next time you have an awful hole, remember it has happened to the best in the world – you are not alone.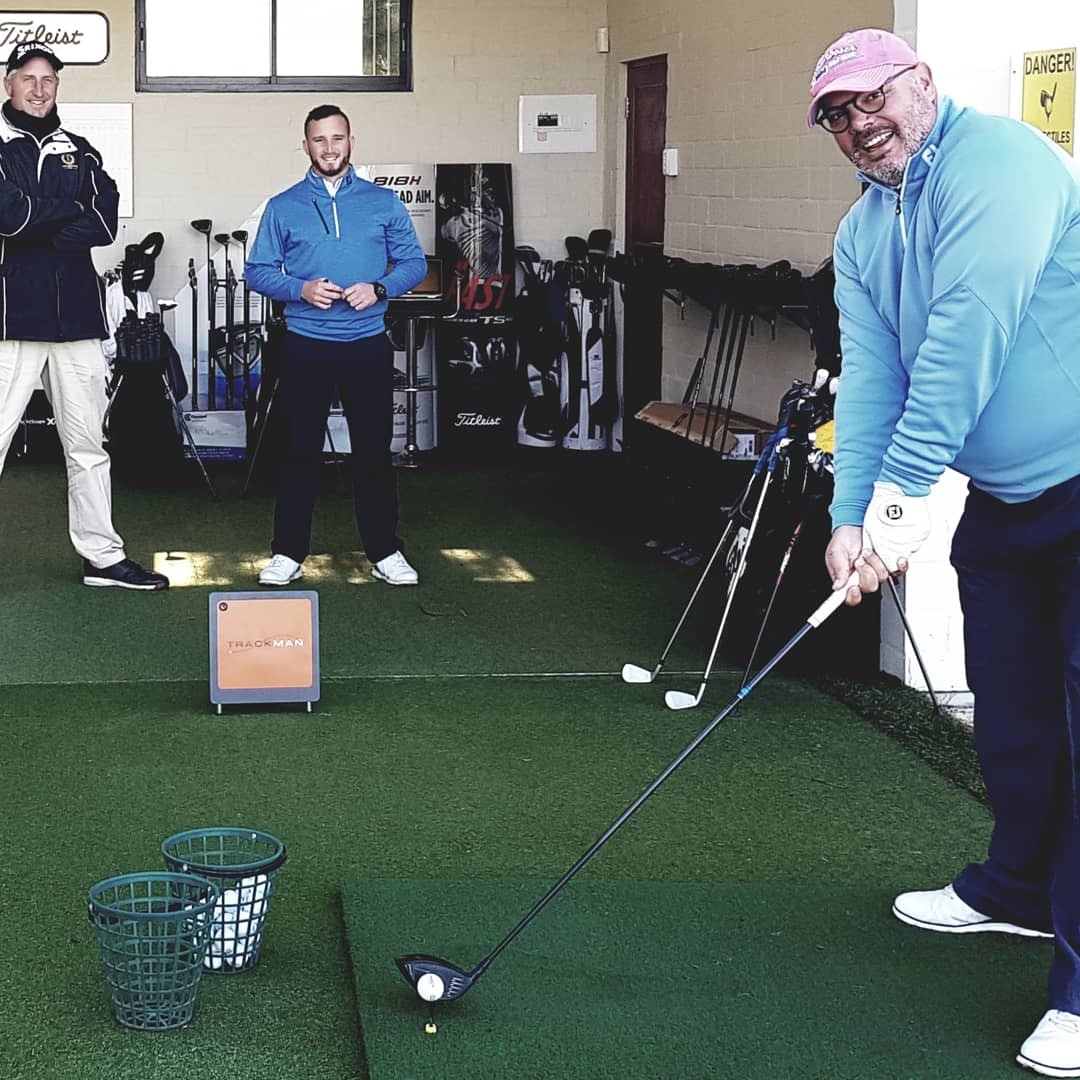 And that's why it's always good to go for a fitting every now and again


And, to end off...

Ending off this week I would like to congratulate the Paul Roos Old Boys with their win last Friday in the annual PRG vs Grey old boys golf game. The rugby did not quite work out the way we wanted to but boy, can we play golf? Yes we can!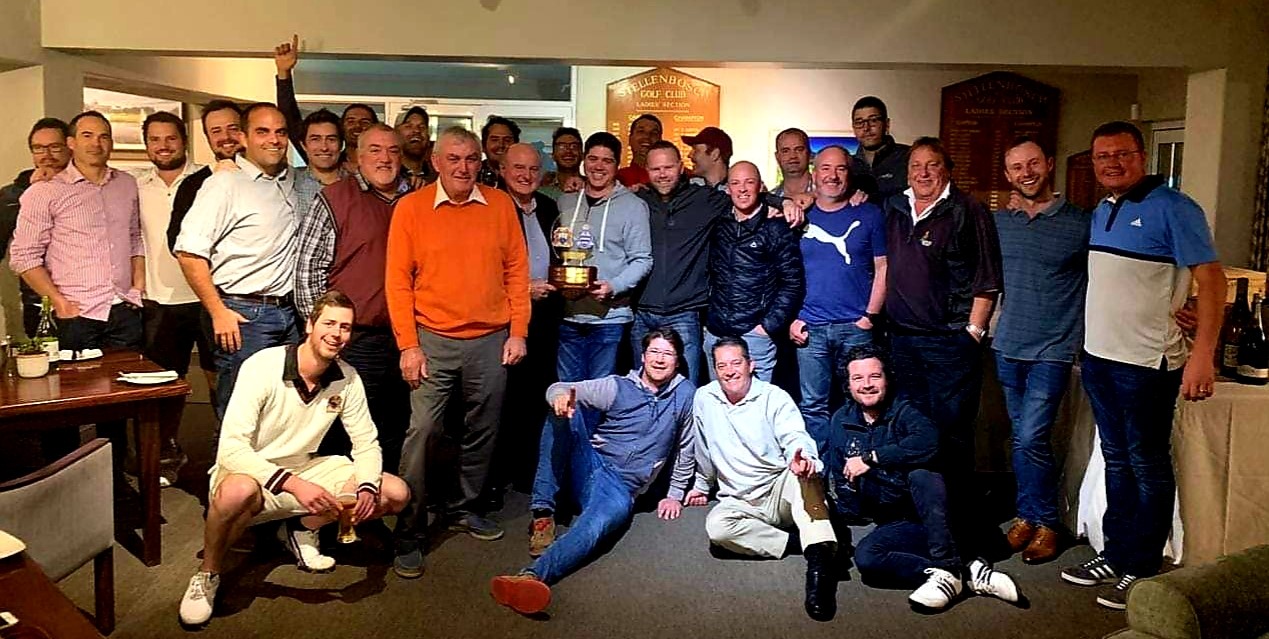 Paul Roos Old Boys with their trophy on Friday evening


As I end this week, I would like to say Happy birthday to Erich, may your year be as special as the day you had! Erich celebrated his special day yesterday, so if you spot him remember to say – HAPPY HAPPY…

Have a great one,
Louis




Pages