You are here
Newsletter
Golf greetings
Wednesday, May 22, 2019 - 09:47





Golf greetings,

218, I wonder if anyone knows what the significance of this number is? No, it's not how much rain we had on Monday, although I would have loved it if that was the case… (If you are wondering how much rain we had – 41 mm on Sunday evening and Monday morning.) We only have 218 days left before Christmas, the year is just flying. Justin had a good 2nd Major for the year finishing T-54th. He will be enjoying a little break, before teeing it up at the 2019 US Open at Pebble Beach later in July.






Round three of the Group One Nissan/Renault Challenge was played on Wednesday. Gerrit Kuhn and Marius De Bruyn came out on top with 49 Stableford points. Please note that one player in the team must be a member at Stellenbosch GC to qualify for the overall prize and Championship. The next round will be played on Wednesday, 5 June, make sure your tee time is reserved!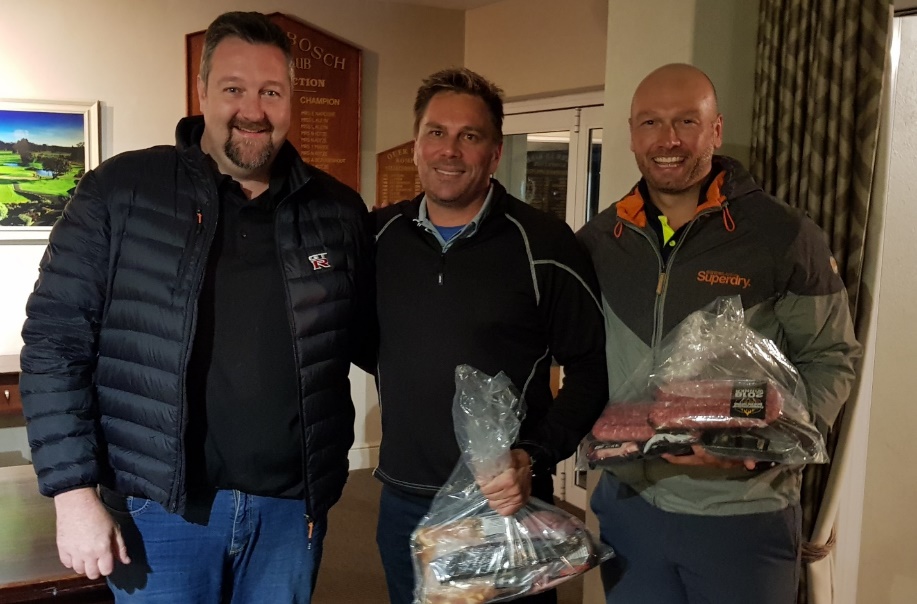 Round 3 winners with Neels form Group One Nissan

Members performing across the country…

Two of our lady members made their way all the way across the country to play at Vaal de Grace and Parys Country Club. They participated in the Senior Nationals with no less than 300 fellow golfers joining them from all over South Africa. Parys laid out the red carpet and the ladies were ready for a great couple of days on the course.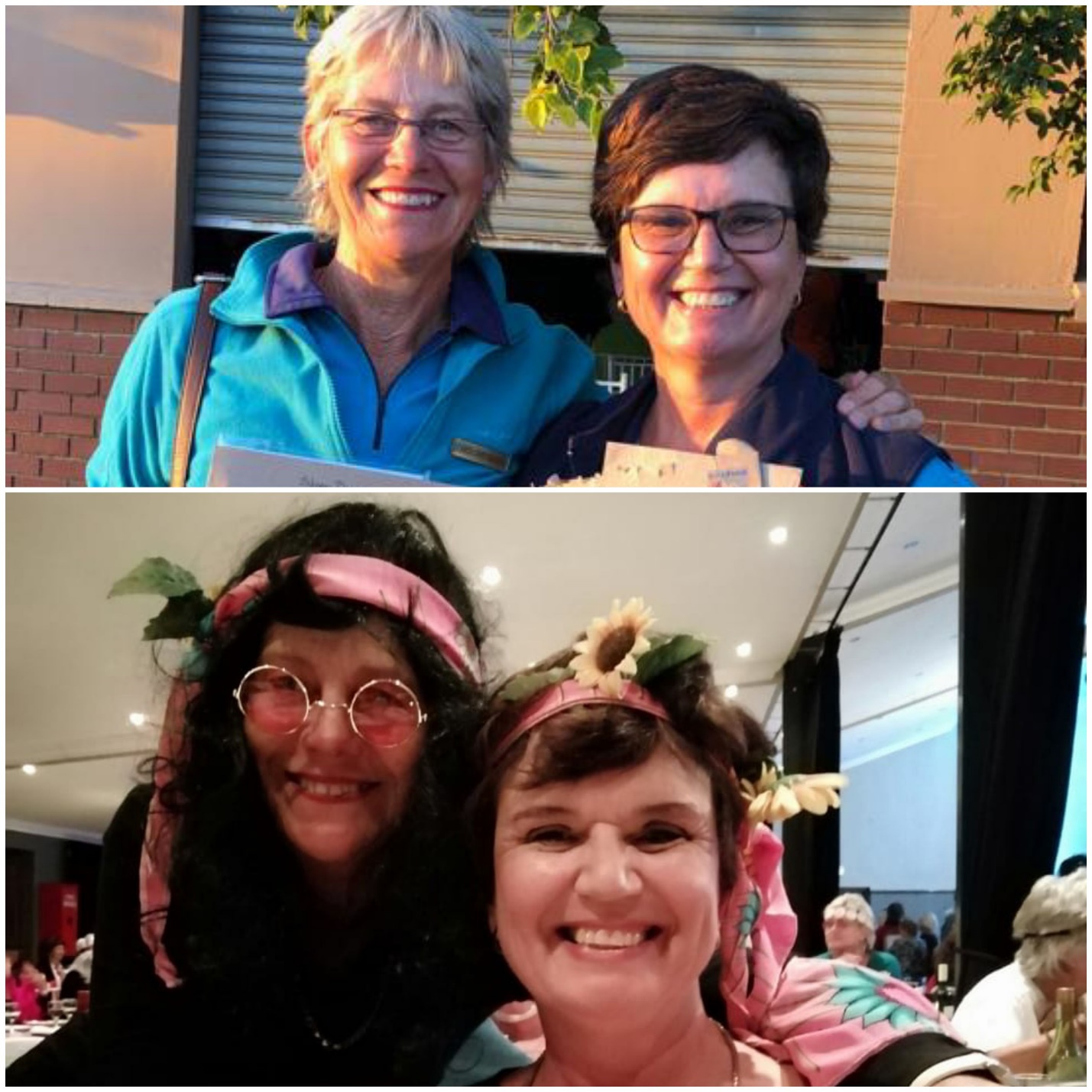 On and off the golf course, Carol & Celeste were winners – check them out!

Vaal de Grace was designed by Golf Hall of Famer, Nicky Price. Carol commented "that he did not hold back with the bunkers." I suppose if you are rated as one of the straightest hitters on Tour and a great bunker player, you don't always think like a mortal golfer.

Parys CC was designed by a South African legend, Cobie Le Grange. With the Vaal River running through the course, why would you not try and make it feature on almost every hole? This however did not upset the Stellenbosch ladies.

Celeste van der Westhuizen finished 2nd overall in the Bronze Division, while Carol van Niekerk won the Silver Nett for players between 60 and 69 years young.

I was quite shocked to see Carol participating in this division as she does not look a day older than 50! Well played ladies, Stellenbosch GC is proud of you both.

Carol's final words: " 'course management' was taken to the next level and we'll be eternally grateful to Erich and Pierre for the Golf Clinic last week – getting out of bunkers and percentage shots onto the green! (there were incidents of 12 – 14 shots out of bunkers!) "

Congrats, Ian!

It was a dream come true for Ian Louw, when he got to tee it up in the Lombard Insurance Classic ProAm with Hennie Otto as his Betterball partner, with Titch Moore and his partner completing the fourball for the Alliance team. What made it more special is finishing 8th in the Betterball and winning the Alliance competition. What dreams are made of!


Knockout 2019

Entries are now open at the Pro Shop – Don't miss out!

Enter on your own or with a partner. Please take note that the Knockout is open only to Full Male Members of the club. With limited space available, enter next time you are at the club!

Do you feel lucky or not…?

Sometimes you do get lucky on the golf course. Angel Yin was indeed very lucky in the LPGA Lotte Championship last month: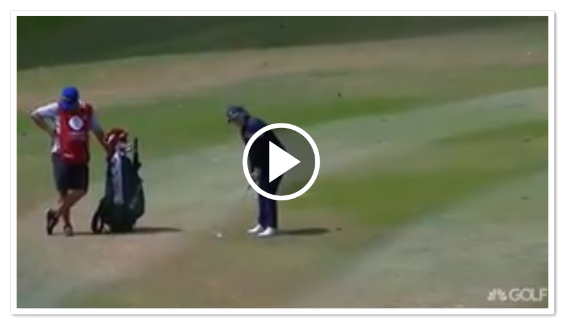 It is not clear whose ball it was that rolled in the hole from this video, but it was in fact Angel Yin's ball. Had it not been deflected by the ball on the green, it would have ended up quite slightly further from the hole.

The Rules of Golf are simple: No penalty to anyone. The other ball had to be replaced (Rule 9.6), but Angel Yin's ball was to be played from where it lay (Rule 11.1), i.e. it was holed out (in two strokes – an eagle)!

So when you sometimes feel unlucky on the golf course, be aware that you can also get lucky!

Nashua Winelands Six's

Where are you currently lying in the Nashua Winelands Six's? As we get ready for round three tomorrow, it means that after the round we are halfway to announcing the winners! Bad news if you have not entered as it's sadly fully booked at the moment. Good luck to everyone participating tomorrow – who knows, maybe you get "lucky" – you just never know! Remember to support this wonderful sponsor, thank you Stafford.







Sadly I'll be missing tomorrow, as I will be in Natal to attend the PGA of South Africa National Championship, returning on Thursday and back in the office on Friday.

Ending off on a positive note

Nope, I did not forget. What's our positive for the week? To be more considerate. Considerate about what you may ask, making bookings. With winter comes frustration because you just never get a spot to play in. It's not the case that more people play this time of the year or we have too many members. No, it's because the days are shorter, thus making the field smaller. So next time when you make that early morning booking, think twice if you will be playing and why not put in all the names rather than "member-member" which means you are still thinking about it!

Let's keep communicating, people sometimes forget that they can still phone the Pro Shop and ask to be added to the waiting list. On an almost daily basis members who have reserved tee times with only one name and 3 x "member-member" bookings are contacted to provide the names of their fourballs. If the staff in the Pro Shop are aware of other members looking for a game, they will be accommodated first.

The power of communication is immense, let's not stop, there is nothing better... Let's be considerate throughout this winter!

Arrivedeci,
Louis







Pages